Give Aloha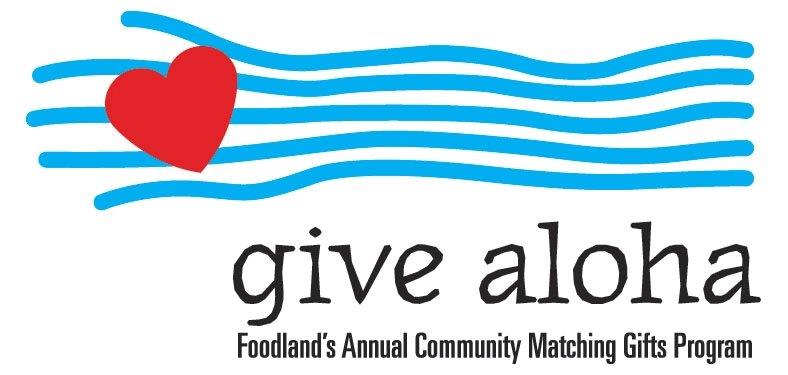 Each fall, NHKS participates in Give Aloha, Foodland's Annual Community Matching Gifts Program. This program honors Foodland's founder, Maurice J. "Sully" Sullivan, and continues his legacy of giving back to the community. As we gear up for our capital campaign, the Give Aloha program is a great way to donate to your child's school.
How does it work?
From September 1-30, customers are invited to make donations up to $249 to participating Hawaii non-profit organizations at checkout. Individuals must use their own Maika'i cards to make donations. Foodland and the Western Union Foundation will match a portion of each donation made with a Maika'i card. Donations made without a Maika'i card will not be matched.
No matter the amount you give, 100% of your donation will go towards the continuing effort to improve our school. Navy Hale Keiki will receive an additional gift from Foodland and Western Union Foundation matching a percentage of the total donations for all organizations participating in the campaign. Every donation received will increase our share of the total matching dollars. For more about Give Aloha, please visit www.foodland.com.
Tell me more about the matching gift.
The Western Union Foundation has generously donated $50,000 to add to Foodland's gift of $250,000 to Hawaii non-profit organizations participating in Give Aloha this year. Therefore, the total gift that will be given to all participating organizations combined is $300,000!
Are these donations tax deductible?
Give Aloha donations are tax deductible to the full extent of the law. Please save your store receipt for tax purposes since it will be the only record you will have of your donation.
How can I make a donation?
The process is simple!
Go to your nearest Foodland or Sack 'n Save store (Stadium Mall, Pearl City, Waipio, Ewa, Kapolei, Nanakuli, Beretania, Kapahulu, Aina Haina, just to name a few).

Present your Maika'i card to any cashier or customer service rep. Don't have one? No problem. Sign-up is free; just give the cashier your phone number. The cashier can also pull up last year's Maika'i card number via your phone number. Or download the app and sign up


Give the cashier the designated code, NHKS #77110, and make a monetary donation of up to $249 using a credit card, check, or cash.

Ask the cashier for two (2) receipts. Print your name at the top of the receipt.

Submit one receipt to NHKS and keep one for your records. NHKS will not be able to provide you with a copy in the future. Donations are tax-deductible.
---
Questions? Please contact the Chief Financial Officer at abel.soares@nhks.org.