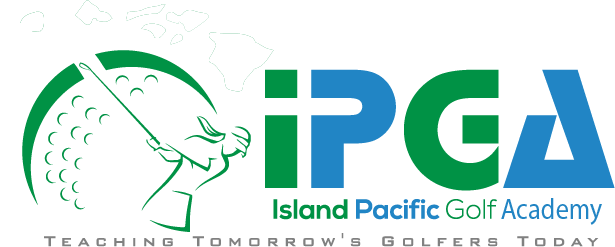 If you received a flyer for Island Pacific Golf Academy classes at NHKS, you can pre-register and pay for your child's session online. Please visit the Island Pacific Golf Academy Website to submit a registration form.
Details
Fall Semester 2021
September 10th-December 10th
Fridays from 3:00 pm-4:00 pm
Cost
$295/student
---
About Island Pacific Golf Academy
Island Pacific Golf Academy is a leader in after school golf enrichment programs taught at elementary schools throughout the Hawaiian Islands because of its dedicated staff and excellent training program.
As a privately and locally owned company Island Pacific Golf Academy strives to deliver the best quality of instruction for our local keikis. Our first and primary goal is to provide children with the opportunity to learn the game of golf at their local elementary school. Developing their academics alongside sports and recreational activities will provide for a well-rounded child. Island Pacific Golf Academy provides children the opportunity to explore and experience the exciting world of golf while retaining an in-school environment. Since all clubs, mats, and balls (foam or plastic) are provided, your child would be able to take golf lessons without having to travel to a golf course or pay costly green fees or invest in equipment. Island Pacific Golf Academy makes it possible for your child to discover their athletic ability through golf in hopes that their interest in the game will lead to greater discipline and learning "life-values."
about Coach Oliver Oliquiano
Oliver Oliquiano, PGA Apprentice, founder of the Academy and Hawaii resident since 1999 has been an avid golfer his whole life and contributed a lot of his success both personally and professionally to the game. Recognized as 2011-2014 U.S. Kids Golf Top 50 Kids Teacher Honorable Mention Oliver claims, "There are many valuable lessons to be taught through this game. Some of those lessons include: integrity, respect, and hard work. Our plans for the academy are to help the children of our community grow not just with the game, but within themselves."
Oliver is also the head coach for Kamehameha School Intermediate Golf Team and the Local Tour Director for the U.S. Kids Golf Tour here in Hawaii. He is a Certified Interscholastic Coach by NFHS.
contact
Oliver Oliquiano
808.393.3873