Summer Enrichment Enrollment
Summer Enrichment Program 2022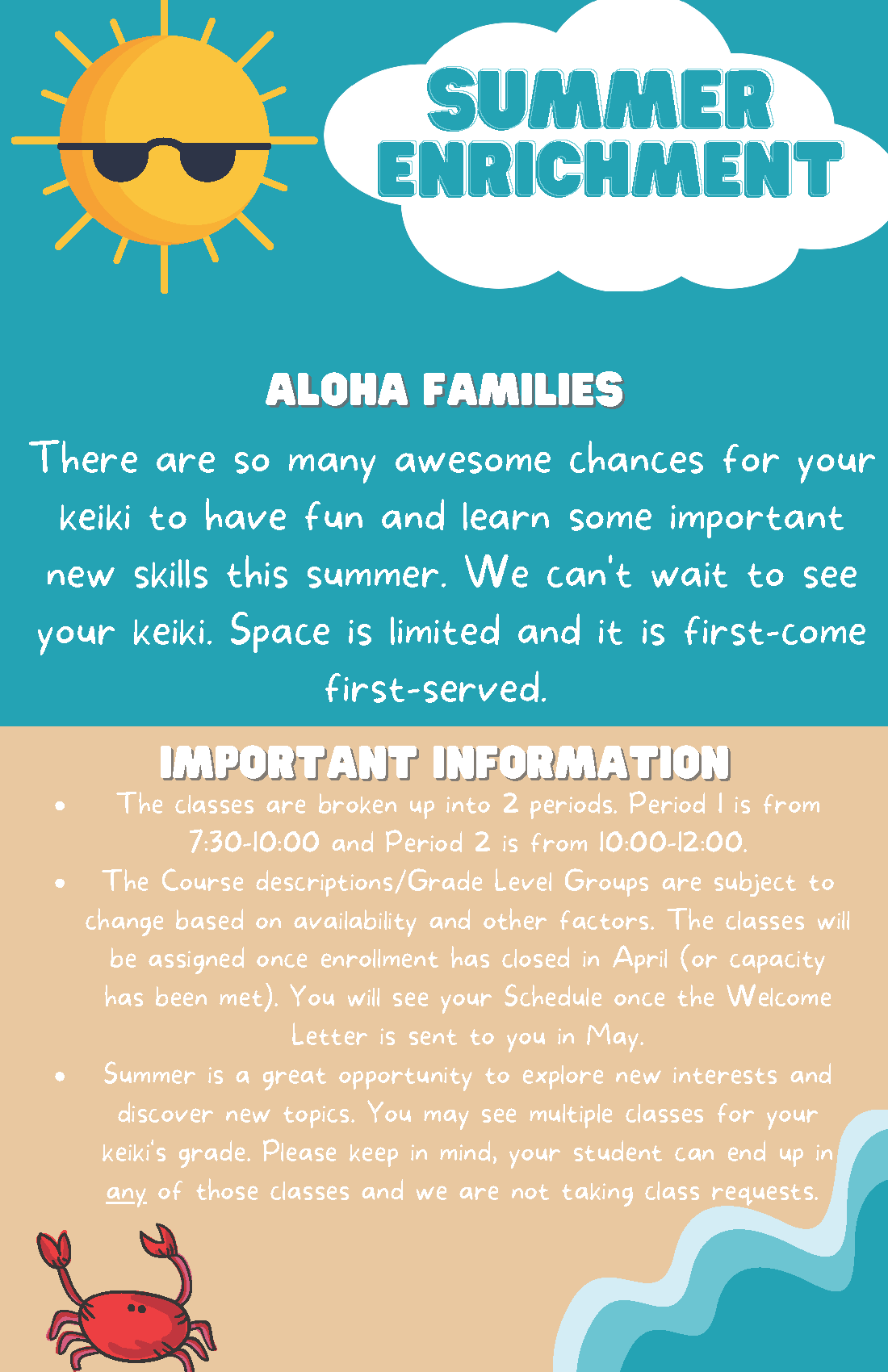 Summer enrollment is open to current and non-enrolled families. Space is limited and enrollment is accepted on a first-come, first-served basis based on the date and time of submission.
Returning Students/Students Enrolled for 2022-2023 &/or Students who have applied to HKS previously, do not need to fill out an application.

Students who attended the 2021-2022 school year will be billed for both the $55 registration fee and tuition payment(s) via FACTS once the enrollment is confirmed.
Please note, space is limited and enrollment is not guaranteed upon submission of the enrollment packet.
Please see the course descriptions and tuition schedule at the top of this webpage by clicking the plus signs to expand.
Click the link to access the enrollment packets https://forms.office.com/Pages/ResponsePage.aspx?id=Ydf-Swabok-BdaT47k6qLDG0GRcqskFEn0UNKFJ4qptUMlpOQVo4VUE0UkROUERRMTRLSkpIOEZDTi4u
Email supplemental documents including necessary medical documents to admissions@nhks.org
Summer-only students (preschool to sixth grade)/ Students who never submitted an application
New students (who have never attended HKS, or have never filled out an application, will need to fill out an Online Application.
Enrollments submitted without a corresponding application will be removed from the queue.
Please see the course descriptions at the top of the page by clicking the plus signs to expand.
HOW TO APPLY
Applying is easy using our Online Application. A non-refundable fee of $25 must be submitted with each application.
Access the Online Application by clicking on the following link or pasting it into your browser: https://nhk-hi.client.renweb.com/oa/?memberid=2318
Select the Summer 2022 Application from the drop-down menu.
CREATING AN ONLINE APPLICATION
To begin the Online Application process, Create an Account.
Log in to your account and Create A New Student Application for your child. You will then have the flexibility to log in and out of your account and access your open application.
After submitting the application, you will be able to track online your admissions status at the school by logging in to your account. There you will be able to print the completed application and monitor when the school receives supplemental application forms.
Your application is not complete until the fee has been paid and the packet is submitted.
Once you have submitted your application, you will receive an email notification with further instructions. If you have not received an email from the HKS Administrative staff verifying receipt of your application, or an email notifying you that enrollment is now open, please contact the HKS Administration at (808) 423-1727.

APPLICATION CHECKLIST
In order to complete the application process, please complete the checklist items listed below, including the submission of all supplemental application forms.
Submit completed Online Application and application fee of $25
Once your enrollment has been confirmed submit a registration fee of $55 and the tuition payment for the session(s) signed up for.
Please see the tuition schedule for payment information.
All payments for families who are not attending HKS for the 2020-2021 school year must be paid via check. Checks can be made payable to "Hale Keiki School". Please include your student's first and last name in the memo if able to, and mail to:
Hale Keiki School
c/o CFO
153 Bougainville Dr.
Honolulu, HI 96818
Submit the following to the Administrative Office by May 15, 2022, via email to admissions@nhks.org:
Birth Certificate
Record of Physical Exam or Student Form 14 Health Record (Physical examination must be performed within 12 months of student's first day of attendance. If a physical examination cannot be completed prior to the student's first day, please provide a statement from your health care facility indicating the date of your child's appointment.)
TB skin test/Screening, performed within 12 months prior to the student's first day of attendance. (A separate sheet is not necessary if your child's Tuberculosis Exam is annotated on Form 14.)
Immunization record or Student Form 14 Health Record
Influenza Vaccination (From current flu season (record of which can be provided later in the school year when flu vaccines are available). Influenza vaccinations are required for all students unless a medical exemption is provided.)
Copy of Power of Attorney (Only if military spouse/sponsor is deployed or unable to sign.)
Copy of Dependent Care Certificate or Family Care Plan (Only for single parent or dual-military families.)
---
Hale Keiki School, Inc. admits students of any race, color, national and ethnic origin to all the rights, privileges, programs, and activities generally accorded or made available to students at the school. It does not discriminate on the basis of race, color, national and ethnic origin in the administration of its educational policies, admission policies, scholarship and loan programs, and athletic and other school-administered programs.